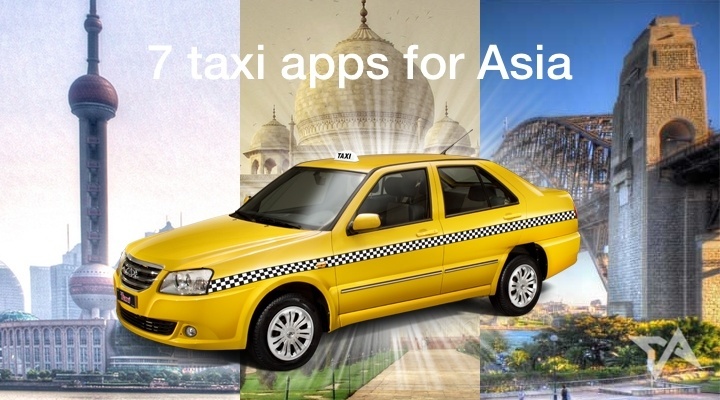 Standing on the curb with your arm flapping in the air is so last century. The best way to get a ride now is to reach into your pocket and let an app do all the work. There are plenty of superb taxi booking apps and car-hailing apps all across Asia, though there inevitably isn't one to rule the entire diverse continent.
That's where this list comes in. Look for your city and you should be able to find the best taxi app for your area. If you're in somewhere like Singapore, Tokyo, or Jakarta, there's plenty of choice. Let's start with the biggest app first.
for selected cities in mainland China, Hong Kong, Macau, Taiwan, Japan, South Korea, Australia, New Zealand, India, Indonesia, the Philippines, Thailand, Vietnam, Malaysia
At the latest count, Uber is in 67 countries. The service now runs in 78 cities across Asia-Pacific – that's up from below 20 cities towards the start of 2014.
Depending on where you live or where you're traveling, Uber mainly offers the cheap UberX across Asia. A few smaller cities have the even cheaper UberGo, using tiny cars. Some cities have UberBlack, UberSUV, or UberXL as added options at higher prices.
Some other options have popped up recently, such as People's Uber in China, which is like UberX except that Uber doesn't make any profit from it.
There's also UberTaxi, using conventional, regulated cabs, in a handful of places, such as Hong Kong, Adelaide, and Tokyo.
Uber currently accepts cash payments from passengers all across India, as well as in selected cities in Indonesia and the Philippines.
Uber has apps for iOS and Android.
for Kuala Lumpur, Johor Bahru, Putrajaya, Selangor, Negeri Sembilan, Malacca, Penang,Kuching, Kota Kinabalu, Singapore, Manila, Cebu, Davao City, Iloilo City, Bangkok, Pattaya, Chiang Rai, Phuket, Ho Chi Minh City, Hanoi, Jakarta.
This Malaysian startup has pan-Asian ambitions. After starting out as an app only for metered taxis with GrabTaxi, the firm later rolled out the UberBlack-like GrabCar.
GrabCar is now available in only five cities: Singapore, Kuala Lumpur, Manila, Bangkok, and Phuket. It's inside the GrabTaxi app.
The firm also offers GrabBike in Indonesia's capital, Jakarta, where motorbike taxis are the quickest way to cut through the insane traffic.
GrabTaxi has apps for iOS, Android, Windows, and BlackBerry OS10.
for 85 cities across India
Fast-expanding Ola now covers 85 cities across India. It offers an array of vehicle types: metered cabs, small cars, standard sedans, and an UberBlack-esque Prime option. Plus, there's Ola Auto for hailing tuk-tuks.
The startup has a public transport option for commuters in India in the form of Ola Shuttle, which uses minibuses going along fixed routes.
Ola accepts both cash and cashless payments.
Ola has apps for iOS, Android, and Windows.
for most cities in China
As with most things on the internet, China is steaming ahead with its own homegrown options. When it comes to taxi apps, the top one is Didi Kuaidi.
Didi Kuaidi was formed by the merger of China's top two ride apps. The resultant company has the backing of web giants Alibaba and Tencent and runs a virtual monopoly on app-connected taxi rides.
It claims to be ahead of Uber when it comes to regular cars as well. Aside from cabs, it offers tiers comparable to UberX and UberBlack.
Didi Kuaidi – available only in Chinese – is also accessible from within WeChat, the popular messaging app made by Tencent. It also has its own apps for iOS and Android.
for Singapore
Hailo, which hails from the UK, failed to make an impact in the US and was forced to withdraw. To counter that loss, the app is betting on Asia alongside its European destinations. But the app's subsequent push into Japan failed, leaving it running in just one city in the continent.
Hailo is now available in Singapore for metered taxis.
for Tokyo and more than 90 cities across Japan
Tokyo has an option to Uber in the form of Line Taxi. It launched at the start of 2015. It has only metered cabs.
There's no English, so visitors to Japan better stick to Uber.
Line Taxi is made by the company behind Line, the messaging app that's popular in Japan and a few other countries in Asia. Line Taxi is accessible within Line.
for Jakarta, Bandung, and selected cities across Indonesia
GrabTaxi and Uber face a challenge in Indonesia from major taxi company Blue Bird, which is dragging its service into the 21st century with its mobile app.
Blue Bird also runs the more premium Silver Bird service.
Blue Bird's app lets regular riders order a car and track its arrival through the traffic. The company hasn't yet made a web service that connects with its higher-end Silver Bird car fleet, even though that would make it into a sort of homegrown Uber.
Blue Bird apps for iOS, Android, Windows, and BlackBerry.
Source: https://www.techinasia.com/10-taxi-booking-apps-asia